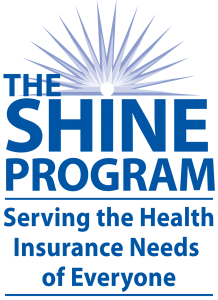 SHINE (Serving the Health Insurance Needs of Everyone)
What is SHINE?
The SHINE Program (Serving the Health Insurance Needs of Everyone) is a state health insurance assistance program that provides free health insurance information, counseling and assistance to Massachusetts residents with Medicare and their caregivers. The SHINE Program is administered by the Massachusetts Executive Office of Elder Affairs in partnership with elder service agencies, social service and community based agencies and Councils on Aging. The program is partially funded by the federal agency Centers for Medicare & Medicaid Services. Call (781) 438-1157 to schedule an appointment with a SHINE counselor at the Stoneham Senior Center.
What is a SHINE Counselor?
A committed volunteer who is trained and certified by the Executive Office of Elder Affairs in many areas of health insurance, including Medicare Part A, Part B, and Part D; Medigap insurance, Medicare HMOs, retiree insurance plans, prescription drug programs, Medicaid, Medicare assistance programs (QMB, SLMB and QI), and other programs for people with limited resources.
How Can a SHINE Counselor Help Me?
The SHINE Program assists elders and individuals with disabilities in understanding their Medicare and MassHealth benefits and other health insurance options. The SHINE program ensures that Massachusetts residents with Medicare and their caregivers have access to accurate, unbiased and up-to-date information about their health care options.
Where Can I find a SHINE Counselor?
SHINE Counselors are available at the Center on Tuesdays from 9am-11am and Wednesdays from 11am-1:45pm. Tuesday counseling sessions include 9am, 10am, and 11am appointment slots. Wednesday counseling sessions include 11am, 11:45am, 1pm, and 1:45pm appointment slots. Call (781) 438-1157 to make an appointment. SHINE counselors are available to meet with individuals in person through one-on-one counseling, via telephone, email and through public education presentations. If you are not in the Stoneham area, you can contact your local Regional SHINE Program Office or senior center. Click here to download a PDF of list of SHINE centers across the commonwealth.
How Can I Become a SHINE Counselor or Have a Counselor Work at My Agency?
If you would like to volunteer for the SHINE Program, or are interested in recruiting a SHINE Counselor for your site, please contact your local regional SHINE Program Director at: 1-800-AGE-INFO (1-800-243-4636).
Information provided by the Massachusetts Department of Elder Affairs web site:
http://www.mass.gov/elders/healthcare/shine/serving-the-health-information-needs-of-elders.html
This is the latest message from SHINE:
Medigap plans are health insurance plans that provide extra protection beyond Medicare by filling in some of the "gaps" in Medicare coverage. In Massachusetts, these plans allow continuous open enrollment. You must have Medicare A and B to enroll, and cannot be enrolled in a Medicare Advantage plan. Anyone who is eligible may enroll or change plans or coverage levels at any time, with changes effective the first of the following month. Note that Medigap policies do not cover prescription drugs, which are covered separately under Medicare Part D.
A Medigap policy will generally pay only when Medicare approves payment. You are free to choose any doctor or hospital that accepts Medicare and you do not need referrals to see a specialist.
For assistance with choosing a Medigap plan or any Medicare issue, make an appointment with a SHINE  counselor at the Center. Appointments are available on Mondays and Wednesdays (only on Wednesdays during the summer). Call (781) 438-1157 to schedule an appointment.