Looking for different ways to support the Senior Center? We've partnered with Helpsy and Discover books to collect any unwanted clothing and books. Donations can be made in the recycle bins located behind the Senior Center (adjacent to the garden and soccer fields).  Funds generated help to support programs and services offered by the center!
HELPSY NO LONGER ACCEPTS BOOK DONATIONS. ALL BOOK DONATIONS MUST BE MADE IN THE 2ND BIN LABELED "DISCOVER BOOKS".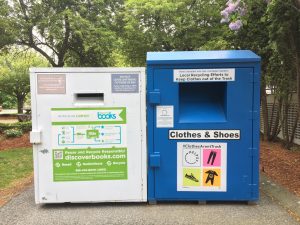 Helpsy's Mission:
"Hey guys, Recycle That is now called HELPSY! We are doing what no one has done before: we are a tech company closing the fashion loop and addressing the textile trash crisis at the same time. With our existing large scale collection of unwanted clothes and sale of sustainable and upcycled fashion, we fulfill our mission in groundbreaking ways."
Acceptable Items:
Clothing and Fashion Accessories;
Men's Women's Children's
Dresses shirts pants suits
Coats gloves hats
Wallets purses backpacks totes
Belts ties scarves
Shoes sandals
Watches jewelry
Towels bedding linens
Small Household goods, décor, toys and stuffed animals;
Kitchen items in good condition (utensils pans plastic cups)
Small toys
Stuffed animals
Items not accepted;
Breakable housewares or glass
Electronics (tvs computers monitors)
Furniture
Building materials
Scrap metal (bed frames curtain rods)
Large appliances
Mattresses
Encyclopedia sets, phone books, magazines
CLICK HERE FOR MORE INFORMATION
Discover Books
Discover Books picks up donations from our collection box and takes the donated books to their facility. Once the books are inspected and entered into the discover books database their futures are determined. Donations may be resold, redistributed, or recycled.
Discover books has donated over 10 million books to non-profit organizations in North America and Internationally. They also have recycled over 500 million pounds of paper, saving books from landfill demise.
Donate in the collection box at the senior center to support the discover books mission to provide meaningful solutions to the global problem of illiteracy.
CLICK HERE FOR MORE INFORMATION