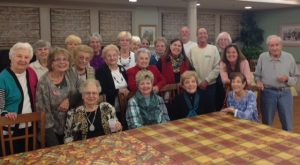 The Senior Center Friends of Stoneham, Inc. is a non-profit 501(c)3 corporation. Our mission is to fund services and activities that enhance the dignity of seniors, support their independence and encourage their social interaction.
We provide funds that support a range of educational, social, recreational, health maintenance, economic, legal and financial programs for the senior population.
Thank you to everyone who pledged and donated on Giving Tuesday. Because of your generosity, we raised over $2,000 for the new awning over the cellar door! We will share photos of the awning when it is installed.
To this end, we organize and execute various fund raising campaigns including our summer-long Bargain Barn, our fall Annual Appeal and our spring Antique Car Show, among others.
Our Board of Directors consists of up to eleven members who volunteer to serve and are voted in for one year terms at our Annual Meeting, scheduled for April. Anyone with an interest in helping seniors is welcome; members are not required to be Stoneham residents. The Board invites anyone interested sharing their time, talents and skills to attend a Board meeting as our guest.
The Board meets monthly, on the third Tuesday at 8:15 am at the Senior Center at 136 Elm Street, Stoneham, except in July and August.
Contact the Friends by leaving a message at the Senior Center 781-438-1157 or email stonehamseniorcenter@gmail.com.
How to Donate
Your financial assistance helps us to support the Senior Center and ensure the sustainability of important projects.  The Center is a home away from home for more than 1,000 local residents and is a valued community resource.
You can donate using check or credit card.
Check
Please make your check payable to "Senior Center Friends of Stoneham, Inc." and send it to:
Stoneham Senior Center
136 Elm Street
Stoneham, MA 02180
Credit Card
You can donate online using PayPal's secure connection. Click the donate button below.

Note: You do not have to have a PayPal account to donate. You can use any credit card.