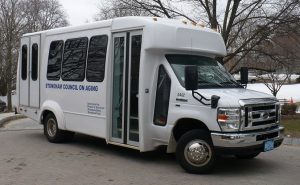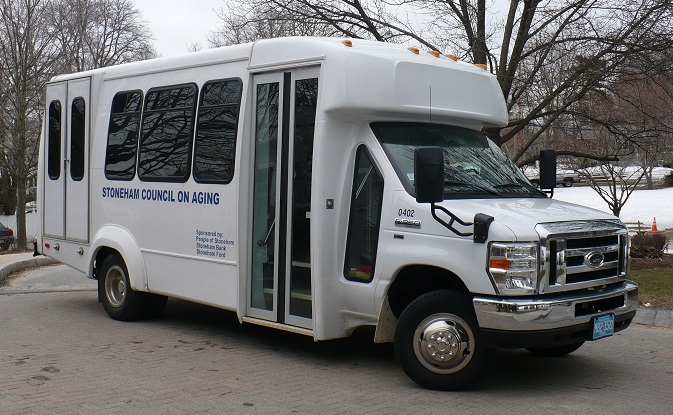 Senior Center Van
If you are a Stoneham resident living independently in the community and need transportation please call the Senior Center at (781) 438-1157. Our comfortable 13-passenger van is available to transport you to and from the Senior Center on Mondays, Wednesdays, Thursdays, and Fridays from 8:30 AM until 3:00 PM, and Tuesdays from 8:30 AM to 11:00 AM. We offer daily pickups from Finnegan Hall at the Stoneham Housing Authority at 9:30 AM.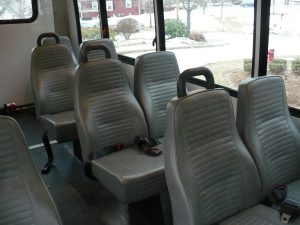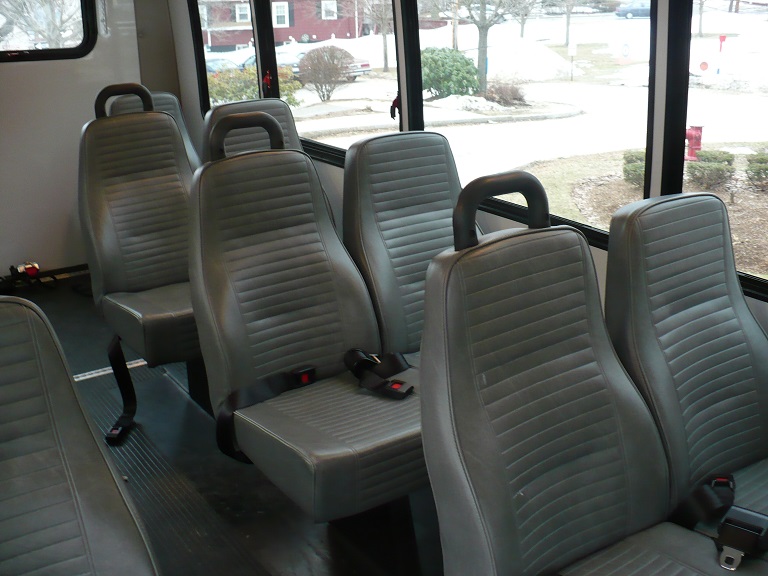 Grocery Shopping (3 Bag Limit)
Sign up for a ride on the Senior Center van to Stop and Shop in Stoneham and Market Basket in Woburn (there is a limit of three bags of groceries per shopper). You must make a reservation in advance for this trip by calling the Center at (781) 438-1157, and there will be a $2.00 per person charge. Please be ready by 8:30 AM for your pickup between 8:45 and 9:15 AM on these days:
Wednesdays – Leisure Lane, Mountain View Drive and Finnegan Hall
Fridays – Private Homes
Main Street Quick Stops
Each Thursday from 9:00 to 11:00 AM the Senior Center Van will shuttle you up and down Main Street to run errands. After the van departs the Center, the first stop is CVS in Redstone, and then the van will continue South on Main Street to the Library. You must reserve your space in advance by calling the Center at (781) 438-1157, and there is a $2.00 per trip charge for this service.
Cheap Eats
Each Tuesday the Senior Center van departs at 11:30 for lunch at area restaurants and shopping at local stores like the Dollar Store, Christmas Tree Shop, Walmart and many others. Reserve your spot by calling (781) 438-1157. The cost of the trip is $3.00 per person; lunch is at your own expense.
Walmart Shopping Trip
On Friday, May 19, the Van will leave the Center at 1:00 pm for a shopping trip to Walmart and return at approximately 3:00 PM. The cost per person is $2.00.
Medical Appointments
Our dedicated volunteers provide medical transportation Monday thru Friday. Rides are available to doctors' offices in Stoneham, Winchester, Melrose, Wakefield, Reading Health Center, Baldwin Park I and II in Woburn, Melrose-Wakefield Hospital, Winchester Hospital and Lahey Clinics in Peabody and Burlington. Please give us at least 8 business days' notice.  Call (781) 438-1157 for more details.

Transportation Provided to  Dispose  of Expired Medication and Prescriptions
On Mondays between the hours of 10:00 AM and Noon, the Senior Van will pick you up so that you can bring your expired and/or unused medications to the police station for safe disposal. Call the Center at (781) 438-1157 to sign up.
Carpooling
We ask those who have their own vehicles to consider offering friends or neighbors a ride to enjoy lunch at the Senior Center. This small gesture goes a long way toward making Stoneham a senior-friendly community and for helping the environment!

TRIP Metro North
If you can no longer drive, this free program gives you money to reimburse friends, neighbors and certain family members for taking you anywhere you need or want to go. Visit with friends, dine out, or shop where you like. Call (781) 388-4819 to see if you qualify for TRIP. Click here for more information on the MVES web site.
Charlie Card
For those who need to renew or obtain a "Charlie Card" call the MBTA T-Pas Program at (617) 388-4819 to see if you qualify for the TRIP reimbursement program.
MBTA "The RIDE"
This program provides door-to-door transportation to eligible people who have a physical, cognitive or mental disability. Call (617) 337-2727 for more details.