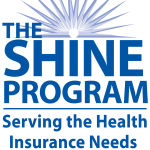 SHINE (Serving the Health Insurance Needs of Everyone)
What is SHINE?
The SHINE Program (Serving the Health Insurance Needs of Everyone) is a state health insurance assistance program that provides free health insurance information, counseling, and assistance to Massachusetts residents with Medicare and their caregivers. The SHINE Program is administered by the Massachusetts Executive Office of Elder Affairs in partnership with elder service agencies, social service, and community-based agencies and Councils on Aging. The program is partially funded by the federal agency Centers for Medicare & Medicaid Services. Call (781) 438-1157 to schedule an appointment with a SHINE counselor at the Stoneham Senior Center.
What is a SHINE Counselor?
A committed volunteer who is trained and certified by the Executive Office of Elder Affairs in many areas of health insurance, including Medicare Part A, Part B, and Part D; Medigap insurance, Medicare HMOs, retiree insurance plans, prescription drug programs, Medicaid, Medicare assistance programs (QMB, SLMB and QI), and other programs for people with limited resources.
How Can a SHINE Counselor Help Me?
The SHINE Program assists elders and individuals with disabilities in understanding their Medicare and MassHealth benefits and other health insurance options. The SHINE Program ensures that Massachusetts residents with Medicare and their caregivers have access to accurate, unbiased and up-to-date information about their health care options.
Where Can I find a SHINE Counselor?
SHINE Counselors are available at the Stoneham Senior Center. Wednesday counseling sessions are available beginning at 11 am. Call (781) 438-1157 to make an appointment. SHINE counselors are available to meet with individuals in person through one-on-one counseling, via telephone, email and through public education presentations. If you are not in the Stoneham area, you can contact your local Regional SHINE Program Office or senior center.
How Can I Become a SHINE Counselor or Have a Counselor Work at My Agency?
If you would like to volunteer for the SHINE Program, or are interested in recruiting a SHINE Counselor for your site, please contact your local regional SHINE Program Director at: 1-800-AGE-INFO (1-800-243-4636).
This is the latest message from SHINE:
Medigap plans are health insurance plans that provide extra protection beyond Medicare by filling in some of the "gaps" in Medicare coverage. In Massachusetts, these plans allow continuous open enrollment. You must have Medicare A and B to enroll, and cannot be enrolled in a Medicare Advantage plan. Anyone who is eligible may enroll or change plans or coverage levels at any time, with changes effective the first of the following month. Note that Medigap policies do not cover prescription drugs, which are covered separately under Medicare Part D.

A Medigap policy will generally pay only when Medicare approves the payment. You are free to choose any doctor or hospital that accepts Medicare and you do not need referrals to see a specialist.

For assistance with choosing a Medigap plan or any Medicare issue, make an appointment with a SHINE  counselor at the Center. Wednesday counseling sessions are available beginning at 11 am. Call (781) 438-1157 to schedule an appointment. Information provided by the Massachusetts Department of Elder Affairs website: http://www.mass.gov/elders/healthcare/shine/serving-the-health-information-needs-of-elders.html
Medicare Questions and Answers

Over 10,000 people will enroll in Medicare every day over the next 10 years. Are you one of them, or do you know someone who is nearing this rite of passage? It's not as complicated as it may seem. Here are 7 common questions and answers about how to get started with Medicare.

Q: How do I Enroll In Medicare? Is it Automatic When I Turn 65?
A: To enroll in Medicare, most people need to contact Social Security directly. Do this before your 65th birthday to avoid a lapse in health coverage. Some people—including early retirees receiving Social Security and those with Social Security disability or Railroad Retirement benefits—are automatically enrolled in Medicare when they become eligible. You can enroll online, at your local Social Security office, or by calling 1(800) 772-1213 (TTY 1-800-325-0778).

Q: When Do I Have to Enroll?
A: You have a 7-month window around your 65th birthday to enroll. This is called the Initial Enrollment Period.

After that, you can still enroll in Medicare, but you may have to wait for a designated special/general enrollment period to do so.

Q: What if I'm still Working and Have Insurance? Do I need to Enroll at Age 65?
A: If you are working past 65 and have insurance from your job (or your spouse is working and you get health coverage that way), you should contact your plan and review how your coverage will change before deciding whether you need to enroll in Medicare now.

NCOA's free website My Medicare Matters offers some helpful tips for what to consider if you have other health insurance besides Medicare.

Q: Does Medicare Cover . . . .?
A: Medicare covers a wide range of medically necessary screenings, supplies, and procedures. Some are free, including many preventive services.

The Medicare & You handbook, which Medicare sends out every year to beneficiaries, provides a summary of many covered services.

Q: I'm going On a Cruise/Overseas Trip. Will Medicare Cover Me If I need Emergency Care When I'm Away?
A: Medicare covers health care for people when they are physically located within the 50 US states, District of Columbia, and U.S. territories.

In rare cases, Medicare Part A may cover medically necessary services in a foreign country when a foreign hospital is closer than a U.S. facility.

In some cases, Medicare Part B may cover medically necessary health care while on board a cruise ship within the territorial waters adjoining the US. Generally, Medicare won't pay for services you get when a ship is more than six hours away from a U.S. port.

If you have a supplemental insurance policy, you should check to see if it covers medical care abroad. Otherwise, it is recommended to purchase travel insurance before your trip, which can help to offset the costs of overseas emergency care if it's needed.

Q: How Do I Pay For My Medicare?
A: If you are receiving Social Security benefits at the time you enroll in Medicare, your Part B premium will be deducted automatically from your monthly check.

If you have not begun to receive Social Security yet, you will receive a quarterly bill for your premium, which you can pay for in several different ways.

If you enroll in a Medicare Advantage or Part D prescription drug plan, typically you will pay the plan directly for your premium.

Q: How Can I Find Out How Much I've Paid For Medicare Services This Year?
A: Medicare offers a free, confidential online service for people to access information about their benefits and services, including how much they've paid for services.

You can also contact Medicare directly at 1 (800) MEDICARE (1-800-633-4227) with questions about enrollment, payments, claims, coverage issues and more.
Medicare Coverage of Diabetes Supplies
Some diabetic supplies are covered under Medicare Part B (Medical Insurance) rather than Medicare Medicare Part D (Drug Plans). These include blood sugar (glucose) test strips and testing monitors, lancets and lancet devices, insulin pumps and glucose solutions for checking the accuracy of testing equipment and test strips. These products are covered under Part B as durable medical equipment and must be purchased with a doctor's prescription from a Medicare-approved supplier or pharmacy. Not all pharmacies realize these supplies should be billed to Medicare Part B. In addition, some pharmacies, especially those that are not part of a large retail chain, may not participate in Medicare Part B. Always ask if your pharmacy participates in Medicare Part B before purchasing diabetes supplies. If you have additional questions regarding Medicare Part B coverage of diabetes supplies, please contact your local SHINE program at (781) 388-4845.

This information is provided by the National Council on Aging (www.ncoa.org).